Sviaz 2022 Forum discussed key communications technology of the future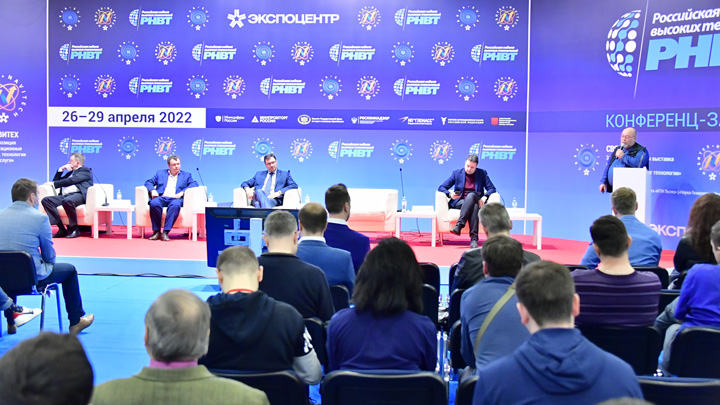 Today the Sviaz 2022 Forum continued its work within Russian Week of High Technologies 2022 at Expocentre Fairgrounds.
The Thematic Session on Breakthrough Technologies to Safeguard Telecom and IT Industries organised by EXPOCENTRE AO and RBC Media Holding was held as part of the forum. Representatives of IT and telecom companies shared new solutions and landmark discoveries with their colleagues. They drew attention to the developments that had been successfully integrated.
According to the moderator, RBC TV host Sergey Krasnov, today sanctions lead to the termination of equipment supplies. The issue of both import substitution and import-independence and support for domestic industry is acute. The theme of the session was devoted to technological projects that develop the industry and with it the country's economy.
Ilya Merglodov, Senior Researcher at the Southern Federal University's breakthrough Communication System Laboratory, presented interesting results from the department's developments in the field of port ultra-broadband antennas and radio transmitting devices for communications and high stealth unmanned aerial vehicles.
The topic of joint development of the industrial internet was touched upon by Vladimir Shaporov, solution architect of the T1 Integration industrial engineering and automation competence centre. "There are many Russian developers today. A number of manufacturers are not inferior to foreign platforms. They are at full load. We have IoT platforms fully ready. The level of specialists is at the right level. The number of orders has multiplied," the speaker noted. He elaborated on the fourth industrial revolution, which includes Industry 4.0 technologies, which are built on the basis of the Internet of Things, connected with a new level of communications between components and artificial intelligence, and spoke about trends and prospects of joint development of industrial IoT and private LTE/5G networks.
Ansarian Hamid, developer at Safir, gave a presentation on the development and production of the NBIOT chip and module.
In the following speeches there was a talk about IT infrastructure on the Russian software, ways to automate the company, as well as about how and what to replace foreign solutions from the "outgoing" vendors for telephony and call centres. This was discussed by the heads and managers of Aurus, Intersvyaz and the Inside Internet agency.
Press Service, EXPOCENTRE AO
---