To comply with the Russian Bill No.758 from 31 July 2014 on public Wi-Fi access, you have to take the following steps to connect to Expocentre's Wi-Fi network.
1. When Wi-Fi is enabled, select the EXPOCENTRE network.
2. Enter your telephone number and click RECEIVE CODE on the authorization page.
3. You will then receive a text message to the telephone you provided containing your access code.
4. To get Internet access, enter the received access code into any device you want to use (SIM card is optional).
Attention: One session is 20 minutes. If you want to prolong it, you have to authorize once again.
Note: Available for devices using Russian SIM cards only. Foreigners can buy a Russian SIM card presenting their passport in sales offices of mobile network operators or their dealers. It will be valid for the entire duration of the visa validity.
Free Wi-Fi Hotspots at Expocentre Fairgrounds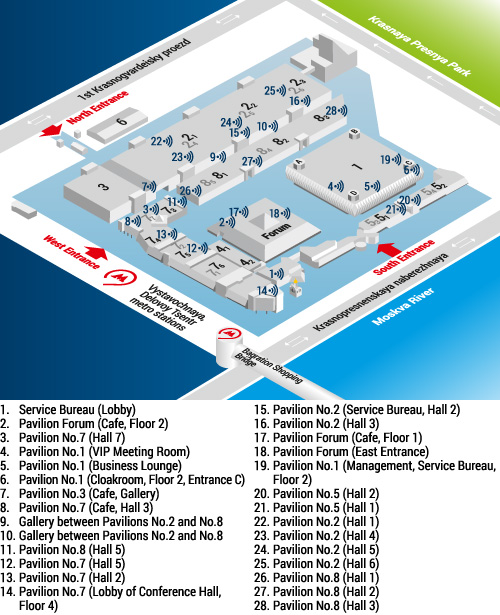 The best exhibition venue in the centre of Moscow, close to the Vystavochnaya and Delovoy Tsentr metro stations, provides convenient traffic connection and a comfortable working environment.
The highly professional and experienced staff of Expocentre and its partner companies deliver high-quality exhibition and related services that also include the rapid preparation and clearance of customs documents, loading/unloading and installation of equipment as well as its undisturbed operation during the exhibition running.
Expocentre Fairgrounds offers state-of-the-art indoor and outdoor exhibition facilities that allow exhibiting and demonstrating innovative technology and high power-consuming equipment.
Address:
Expocentre Fairgrounds
Krasnopresnenskaya nab., 14
Moscow, Russia, 123100