The volume of data processed and stored every year is constantly growing. There is no reason to think that this growth will slow down any time soon.
The Russian legislation introduced some changes in 2016 which will have positive effects on the performance of the data centers market in the near future.
Sviaz 2017 was attended by 11,733 people
54% are decision makers
38% visit Sviaz to make purchases (find suppliers)
30% are first-time visitors
2,347 visitors come to look for suppliers and developers of data centers: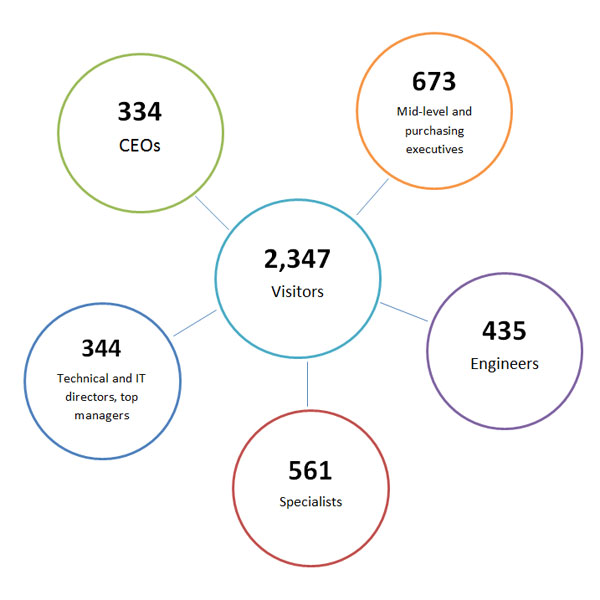 High quality of visitors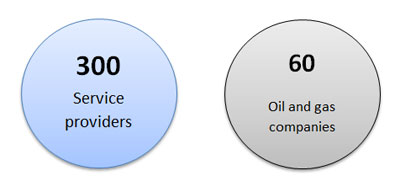 Eight Russian federal ministries
Ministry of Telecom and Mass Communications
Ministry of Industry and Trade
Ministry of Defense
Ministry of Labour and Social Protection
Ministry of Finance
Ministry of Economic Development
Ministry of Natural Resources and Environment
Ministry of Culture
Six Russian state run corporations
Bank for Development and Foreign Economic Affairs (Vnesheconombank)
State Atomic Energy Corporation ROSATOM
State Space Corporation ROSCOSMOS
RUSNANO
Rostec
Avtodor (Russian Highways)
Only target audience, only B2B visitors
Visitors from 52 countries and 81 regions of Russia
Representatives of Russia's major government and commercial customers: the Russian Railways, the Moscow Metro, the Russian Ministry of Civil Defense, Emergencies and Elimination of Consequences of Natural Disasters, the Russian Ministry of Internal Affairs, the Russian Federal Security Service, the Russian Federal Customs Service, representatives of Russian regional departments, airports, oil and gas companies, major manufacturers, retailers, etc.
Exhibitors of the Data Centers Sector 2017
| | | |
| --- | --- | --- |
| RCNTEC (Moscow) | Thermocool Group (Moscow) | Masterwork (Moscow) |
| Electro-profi (Ìîñêâà) | Stego RUS (Mytishchi) | Janitza (Germany) |
| DataPort (Voronezh) | Saft (Moscow) | FIAMM Industrial RUS (Moscow) |
| Green MDC (St.-Petersburg) | Principal Electric (Moscow) | Lanmaster (Moscow) |
| NKT (Moscow) | Delta Solutions (Moscow) | Delta Energy Systems (Moscow) |
| Nport Networks Inc. (China) | Trade Group (Moscow) | Voltronic Power Technology Corp. (China) |
| Special Software Technologies (Bryansk) | Beyondsoft Corporation (China) | EleSy (Tomsk) |
| Sviaz Komplekt (Moscow) | | |
Product Sectors
Server hardware and data storage systems
Network equipment and cable products, SCS components
Cabinets, racks, cages, tools, cross connect equipment
Solutions for structured cabling systems
Power supply systems and lighting systems
Uninterruptible power supply (UPS) and batteries
Surge protective devices (SPD)
Power stations and emergency generators
Air conditioning systems, chillers, fan coil units (FCU)
Raised floors
Control and monitoring systems
CCTV systems
Access control systems
Audible and light alarm systems
Automatic fire suppression systems
Design of data centers
Installation of DC equipment and infrastructure
Maintenance of DC equipment and infrastructure
Why participate in Sviaz?
Increase sales
Attract new clients
Retain existing customers
Resume relations with lost customers
Interact with clients of your competitors
Raise brand awareness
Give advertising exposure to your target audience
Increase awareness and memorability of your brand
Build positive company image
Create and keep reputation of a successful and reliable company
Market your company as an industry leader
Demonstrate industry expertise
Ensure business development
Establish contacts with the right people, find new partners, see government representatives face-to-face
Evaluate competitors and analyze market
Get ideas for development of your products, services and business
The Sviaz exhibitors have 350 talks on average over 4 days.
Some even have up to 1,000!
or